If you haven't already seen the big kitchen reveal, you can read that post
here.
A few people have asked how we painted our cabinets, so I thought I'd just do a blog post about it. This literally could not have gone any better for us. I was fully expecting to have drips and clumps to deal with, and there was none of that. I don't know if it's because we went into it with no expectations? Whatever it was, they turned out great and it was 200% worth it to do it (and to not pay someone!)
Step 1: Remove all cabinet doors and pulls.
We took all the doors off the cabinets, and then removed the hinges from the doors as well. We made sure to have a container for all the hinges, a container for all the screws that held the hinges on the doors, and then left the screws that attached the hinges to the cabinets INSIDE the cabinets. That way we didn't lose any important parts!
This is also the part where you should remove all the hardware (pulls and knobs) from the cabinet doors and drawers. We didn't have any to begin with, so we didn't have to bother with that step.
Step 2: Tape tape tape!
Tape all your edges including where the cabinets meet the floors, walls and any appliances that aren't easily moved. Our dishwasher is stuck in there pretty tight, so we didn't bother trying to move it to paint. Instead, I taped it up.
Also, you might want to tape off the inside of the drawers (since it might not be worth it to take off the drawer fronts to you. It wasn't to us.)
Step 3: Don't bother sanding, just use Bonding Primer.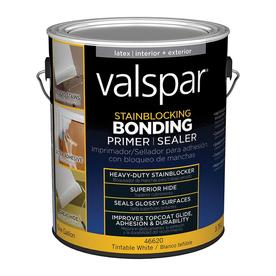 We were going to sand all the cabinets and doors and drawers, but then found this little gem. After reading the directions (which specifically said to not sand, but just make sure all surfaces were cleaned before use), I was sold! Once this went on, the cabinets actually felt like they had been sanded. I guess that's what it does? Also, part of our cabinets were made from laminate, so this was absolutely necessary in order to get the paint to stick to it! Worked like a charm.
We didn't even use half the can - this stuff is THICK, so if you buy it, you could easily get several projects out of it.
(After the bonding primer step. We didn't paint the island because we covered it in bead board first.)
Step 4: Paint all the doors and drawer fronts and cabinets (2-3 coats)
Here's my magic tip for all you cabinet painters out there: Don't glob on the paint. Avoid drips and clumps by doing 2-3 thin, even coats. You might need more depending on your cabinets and lighting, but LAY IT ON THIN. If you do happen to notice a drip or glob that has dried before you could catch it, just go over that spot with a high grit sandpaper and keep on painting.
You really can't mess this up!
The other tip is to use a good brush (don't buy the cheap ones for this project!) for the detail parts, and a small foam roller for the larger surface areas. The roller makes it go wayyyyy faster and leaves it smoother. They make specific rollers for cabinetry, so just check the paintbrush aisle. We used a 4" roller and an angled brush.
Step 5: Reattach all hinges and doors and hardware and enjoy!
The end.
Kitchen Renovation Source List:
I think that about covers our list...Any questions? Just ask, I can't very well read your minds.