It's 10:08 on a Saturday night and here I find myself blogging and watching Tombstone with Kennedy (which at first glance, looked like Clue -- What? I've never seen either all the way through, but handle-bar mustaches + billiards rooms = Clue in my mind.)
Val Kilmer has really let himself go.
While we're on the topic of things that could really use a makeover, Kennedy and I have decided to finally take the plunge and renovate our master bathroom.
Here are are a couple of pictures on move-in day:
From the outside looking in....The only difference between this photo and now is we have since thrown out that bath mat and the white shelf on the back wall.
Here's another, just because it's so visually appealing...
From the inside looking out...
I cannot WAIT to have this project finished. And we haven't even started yet. This is definitely going to be one of those "marriage counseling" projects where Kennedy & I both come away better people. But in the end, I will not have to open a door, step in and press my body against the wall, then shut the door just to be able to get into our shower.
Other non-negotiables we have for this bathroom project:
-No peeling wallpaper
-A bathtub that drains properly
-an absence of mold and mildew
-getting rid of anything brass
We are still in the preliminary stages of planning, but here are a few pictures of inspiration to help you envision with us.
White Subway Tile (with white grout) in the shower....
Claw foot tub
Perhaps some grey slate tile for the floors....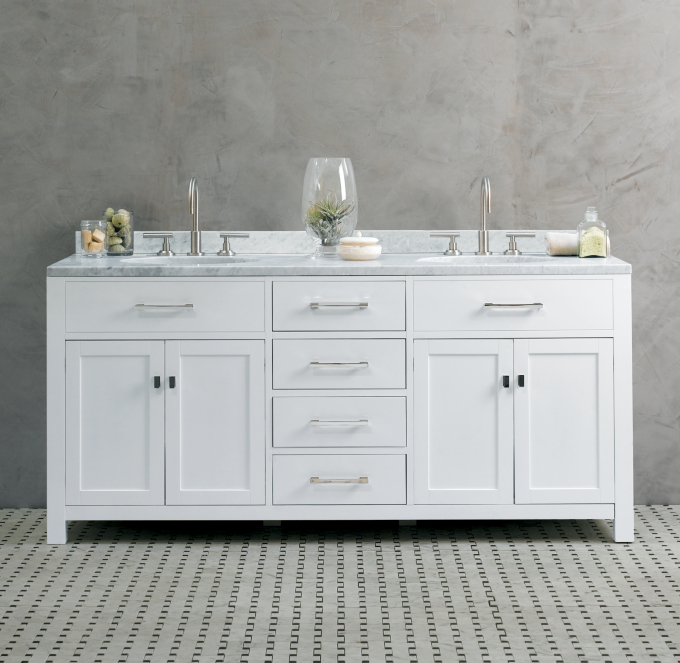 (From Restoration Hardware....I wish!)
The jury's still out on what type of countertops we're gonna get -- I wouldn't mind going with a dark or black granite....Kennedy wants not black. We may compromise with a white-ish grey color. Who knows! We still need to decide on a layout!
Coming up next....A blueprint of our current bathroom and some possible new arrangements! Stay tuned!